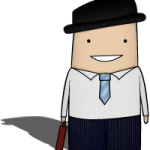 We are pleased to announce that we will be working with David Allan at Lending Expert to provide us with a secured home loan options for our clients. Secured loans are another tool in the "tool box" allowing us to provide even more solutions for our clients looking to raise money or consolidate their existing debts.
Often many of the people we speak to wish to raise finance from their home and a second secured loan or 2nd charge as it is known allows them to do this without having to sell their property. Assuming that is that there is enough equity within the property to secure against – this usually isn't a problem and a loan can be arranged fairly quickly.
Secured loan rates have dropped recently and have become a viable option for many home owners with both a poor or adverse credit rating and those with a good rating too.
Rates are as low as 6.9% for those with a good credit score and borrowing can be up to 90 – 95% loan to value.
If you are looking to unlock the equity within your home and don't wish to sell then consider a secured loan. It may provide you with the solution you are looking for.
View the video to learn more
Best Wishes, Susan.
Author Susan Jones – Google +
Best Wishes, Susan